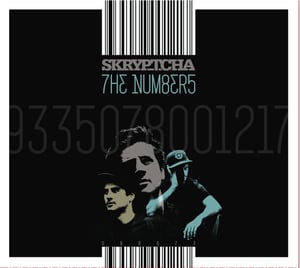 $

20.00
The Numbers is an honest and personal expression of Skryptcha's personality and love for the music wrapped up in that old boom-bap sound. Like those who have made a mark in the past, The Numbers is a glorious mix of deft production work and intelligent lyricism & story telling.
Enlisting production from; M-Phazes, Chasm, Jase and Ante Escobar alongside international input from Domingo (NY), Skryptcha brings to life the past twelve months with a blend of soul-drenched arrangements, catchy vocal harmonies, and classic beats.
The first single, "Get Mine" (featuring the vocal work of Melbourne songstress Rachael Berry) is the album's apex. The Chasm-produced number, with its big horns and party vibe, is their finest collaboration yet- the latest in their already stellar musical partnership. In "All In" (featuring Bastion Bones of Sydney band Bones Atlas), Skryptcha delves into relationships, perfectly capped off by the line "we still play to win with ridiculous sums".

With additional vocals by the aforementioned artists alongside Jeswon (Thundamentals), Dialectrix (electric once again on "Locked Down") and Lotek, The Numbers is Skryptcha's new school tribute to hip hop's yesteryear, the culmination of more than a year's worth of work. Proving that he had much left to write, The Numbers looks to propel the Sydney MC into the consciousness of the Australian music fan.
Track Listing
Good Music
All In (feat. Bastian Bones)
The Numbers
Get Mine (feat. Rachael Berry)
Locked Down (feat. Dialectrix)
Full Steam (feat. Lotek)
Clever
The City
Satisfied (feat. Rachael Berry)
Impossible
This World (feat. Jeswon)
One Way
Growth
Postcard